June 03, 2020
By BRANDON ARMANT (WTDN) - New Orleans Saints quarterback Drew Brees is causing a lot of uneasiness in the Big Easy today, after he told Yahoo Finance that he views NFL players taking a knew, in protest, as a disrespectful gesture to the American flag. Brees said it's something that he "will never agree with."
Brees, 41, also compared the sacrifices made by those who fought for Civil Rights to the sacrifices made by those in the military.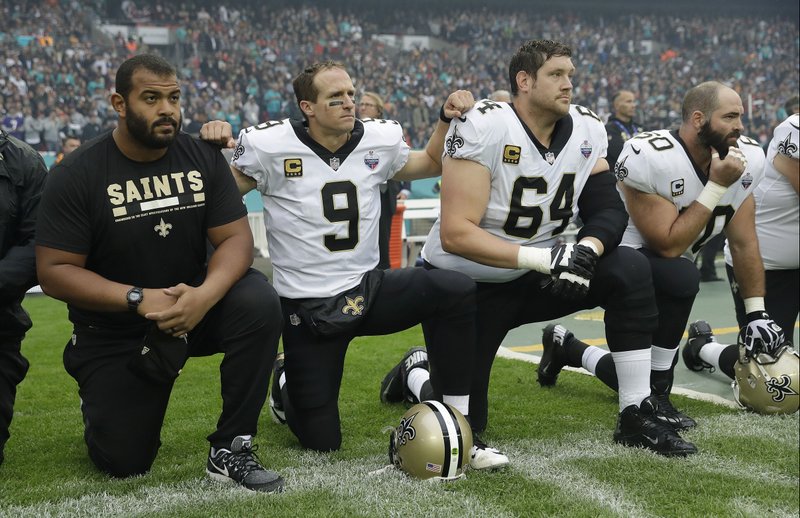 New Orleans Saints quarterback Drew Brees (9) kneels down with teammates before the U.S. national anthem was played ahead of an NFL football game against Miami Dolphins at Wembley Stadium in London, Sunday Oct. 1, 2017. Saints players then stood when the anthem was played. (AP Photo/Tim Ireland)
Brees' comments come during a very sensitive time in the country, while many Americans are protesting the death of George Floyd - a black man who was killed by a white cop, while arrested, in Minneapolis. The comments also comes days after Los Angels Chargers coach Anthony Lynn said that Colin Kaepernick's protest of kneeling during the National Anthem was misunderstood. Lynn explained, in a Los Angeles Times interview, that Kaepernick's protest was meant to bring attention to the need for criminal justice reform and an end to police brutality – not a disrespect to the United States of America or the American flag.
Saints receiver Michael Thomas appeared to reply to his teammates' comments on Twitter, saying, "he don't know no better."
New Orleans Saints five-time Pro-Bowler Cameron Jordan also weighed in on Brees' comments with a tweet saying, "I've been told countless times, believe only half of what you see and none of what you hear. Idk bout it. I do know Actions speak louder than words. I've been told that a plenty… show me."
New Orleans Saints quarterback Drew Brees (9) celebrates with wide receiver Michael Thomas (13) after Thomas caught a touchdown pass against the Tampa Bay Buccaneers during the first half of an NFL football game Sunday, Nov. 17, 2019, in Tampa, Fla.
AP
It should be noted that, on Tuesday, many people participated in a social media blackout that encouraged others to take a break from social media to reflect on racism. A number of celebrities and athletes participated in the movement, including Brees.
Not long after the backlash from his comments, Brees attempted to clarify them to ESPN's Mike Triplett, saying,
"I love and respect my teammates and I stand right there with them in regards to fighting for racial equality and justice," he said.
"I also stand with my grandfathers who risked their lives for this country and countless other military men and women who do it on a daily basis."
---
Cover Photo: Associated Press