January 26, 2020
NEW ORLEANS (AP) — Zion Williamson had 21 points and 11 rebounds in 27 minutes and the New Orleans Pelicans beat the Boston Celtics 123-108 on Sunday for their first victory since the rookie star joined the lineup.
Jrue Holiday had 25 points, JJ Redick added 17 and Brandon Ingram had 16 to help Orleans snap a two-game slide.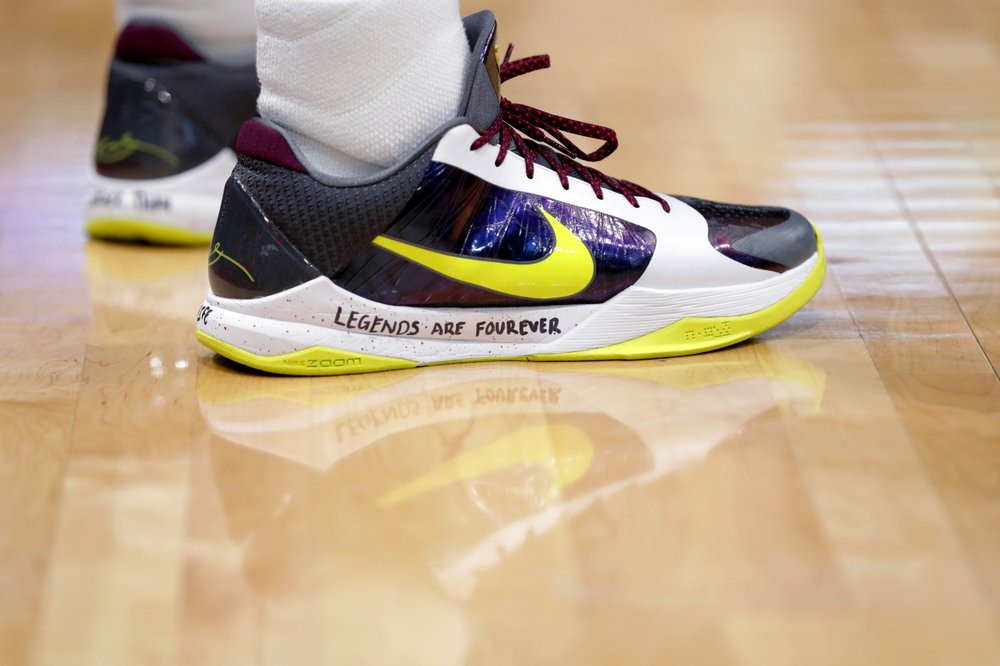 New Orleans Pelicans guard Josh Hart bears a memorial message on his shoes for former NBA great Kobe Bryant, who died today in a helicopter crash, in the first half of an NBA basketball game against the Boston Celtics in New Orleans, Sunday, Jan. 26, 2020. (AP Photo/Gerald Herbert)
Williamson played his most minutes yet in his third game back from arthroscopic knee surgery performed the day before the regular season opened. He had played the first five or so minutes of each quarter in his first two games, but the Pelicans made an adjustment to his fourth-quarter usage to allow the NBA's top overall draft choice out of Duke to be on the court for the final minutes Sunday.
It paid off. Williamson scored eight points in the final three minutes — highlighted by a dunk on a baseline cut as he was fouled — and the Pelicans pulled away.
Kemba Walker scored 35 points, Gordon Hayward had 23 and Jaylen Brown 20 for the Celtics. They fell behind for good in the first quarter and trailed by as many as 23 in the third quarter.
---
Cover Photo:
New Orleans Pelicans forward Zion Williamson (1) shoots in front of Boston Celtics forward Gordon Hayward (20) in the first half of an NBA basketball game in New Orleans, Sunday, Jan. 26, 2020. (AP Photo/Gerald Herbert)